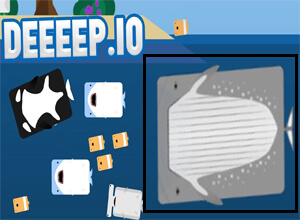 Deeeep.io Whale is a 10 tier animal. Leopard seals and Narwhales are known to evolve into whales. Whales do not evolve into any other animals as they are the most updated animals and they drop meat upon death. Many players want to get the whale animal category to kill competitors easily.
Deeeep.io Whale Description
Deeeepio Whale is one of the last animals in Deeeep.io. it evolves from Leopard Seal. It has the ability to pull animals and food toward it and has 3 boosts. Rays and below will be absorbed into the whale, while Beavers and above would be sucked toward the Whale, letting the Whale incessantly hit the victim without moving or chasing it. It can go to the arctic side, but it cannot eat the Pollock in the arctic. Once the whale goes up for air, they would mechanically release the animals sucked in. It is equivalent to Shark, Killer Whale, Cachalot, and Giant squid, Polar Bear, Whale Shark, and Marlin.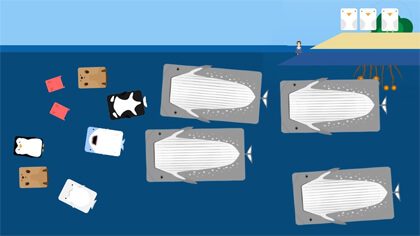 The Appearance Of Deeeep.io Whale
It is mostly grey and has a white belly and mouth. More simply, it looks like a humpback Deeeep.io Whale. The whale cannot hurt you if you are anything below a seagull. But if you're a seagull and you see a Whale, fly up and away as fast as you can, although boosts aren't necessary unless the whale is pulling you towards it. It can pull animals ray and below into itself.
Ability Of Deeeepio Whale
Use your boost to suck other animals in. You cannot damage any animal tier 6 or below, and you will swallow them if they get caught in your suction. You also gain a damage buff when Orcas or Sharks are near. Deeeep.io Whale is one of the most powerful animals in the Deeeep.io games and once you evolve into a whale you can win the game. In addition, one of the funniest animals is Deeeep.io Hippo.